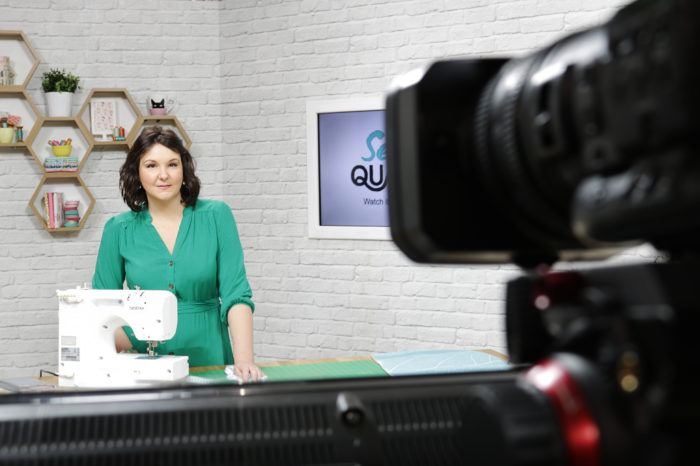 Hi Jenniffer! You've got a book out – Girl with a Sewing Machine – please tell us about it!
It's my no fuss guide to making and adapting your own clothes. It's an insight into my sewing journey with projects that I have made along the way.
Where did your love of sewing come from initially?
It started with my wedding dress – the first thing I ever made and since then I just couldn't stop!
We read that you became a debt collector after university – how did you find your creative spark again and change paths?
Oh gosh, that seems like a life time away, but the creative spark came back when I joined the band, Snooty Bobs, as a singer, lyricist and that is how I met my now husband, Kirk. I like to think of him as my muse.
What's a typical work day for you now?
If I'm not on site doing a workshop, events or filming for Sewing Quarter, I'm normally hiding in my She Shed which is my new sewing studio at the bottom of the garden, normally preparing for workshops, the live shows or coming up with ideas for projects. Unfortunately, I have not done any selfish sewing in a while – I really need to make some time for that.
We loved watching you on the Great British Sewing Bee – has it changed your life in anyway? Absolutely, it's given me the confidence to follow my passions and dreams. I love spreading the #sewingrevolution love and just cannot believe that I was once working in an office for so long!
Tell us about #sewingrevolution please?
The #sewingrevolution is about encouraging other to pick up a needle and thread. Whether that is just to repair a button on a shirt, or making the shirt into something completely different. Sewing is a wonderful and empowering skill that can boost people's confidence and self-esteem and more importantly it's so much fun! The #sewingrevolution is about sharing your skill with others. Creativity is contagious – pass it on!
What's the last item of clothing you made?
For myself? It was the wrap trousers in the book. I live in them at the moment. They are so comfortable!
How much of your wardrobe is handmade?
A lot, but there is a lot of up-cycled makes as well. So, I would class those as 'handmade' more like 'revamped' lol
Where do you look for inspiration, and of course patterns and fabric?
My inspiration comes from lots of different sources. Music, colour, situations and fabric inspires the makes sometimes. I like to think the fabric tells me what it wants to be turned into.
How have you styled your sewing space?
My space is based on chaos. I try to keep it tidy but it really doesn't last long. But I like to have fabric swatches around so I have a lot of pin boards with things pinned onto it. It's a relaxed space, it's my space and I love it.
What is your proudest achievement in your sewing career so far?
To date it has to be Girl with a Sewing Machine. When I had the first copy drop through the door – wow! I just don't have words really.
What would your advice to anyone looking to get started in dressmaking be?
There are no such things as mistakes – they are learning curves! So, don't be afraid to make them! I like to make sample books of seams and stitches; and if I have made a mistake, I keep it and make notes on where and why I had, so I can refer to it to remind myself not to do it again.
Order Jenniffer's new book 'Girl with a Sewing Machine' from Amazon.co.uk here.