Hello again Creative Friends
Have you seen the recent lockdown craze of photographing yourself in various settings reproducing famous paintings.
Here is a previous attempt of mine to recreate Klimt's painting – Portrait of Adele Bloch-Bauer currently at the Neue Galerie New York. Not photographing myself but using Powertex as the medium.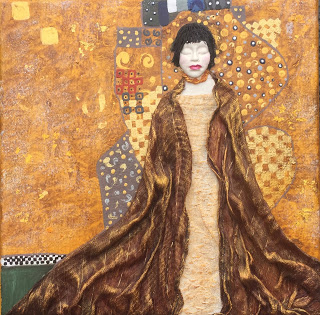 The piece was created on a canvas which was coated in Powertex Yellow Ochre, this was then sprayed with Natural Brown Bister and a scrunched up paper towel was used to remove some of the bister to give a textured effect in the background before being dried.
A plaster head was attached using Powertex Transparent, the hair is Powercotton dipped in Black Powertex. Colouring on the face and the detail in the background was all down with Powertex pigments and Easy Coat Varnish and a very fine brush!
The clothes and cape were added after being dipped in Powertex Transparent and were then heavily dry brushed in Rich Gold.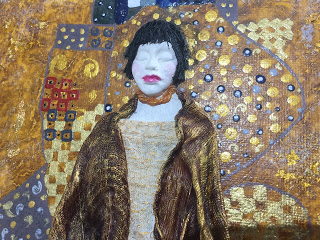 Finally small patches of Gilding flakes were added to the background using Easy Coat Varnish for that extra touch of sparkle.
Which painting would you recreate and what medium would you choose?
We would love to see your creations.
Until next time happy creative adventures.
Annette x
www.annettesmyth.co.uk