If you're looking to take up a new craft, why not give crochet a try?
We've put together some of the key tips to help get you started. From the most comfortable way to hold a crochet hook to crocheting your first stitch; these helpful hints and useful tips will give you all the confidence needed as you learn this new craft.
Holding the Hook
The first thing to think about when starting to crochet is how to hold your hook. It should feel comfortable in your hand, so begin, pick up your crochet hook. You should hold it in your hand as you would do if it was a knife that were holding when eating with a knife and fork. Some people prefer to hold it in a similar grip to holding a pen, but the knife hold will give you a little more control when you're starting out.
Yarn to work with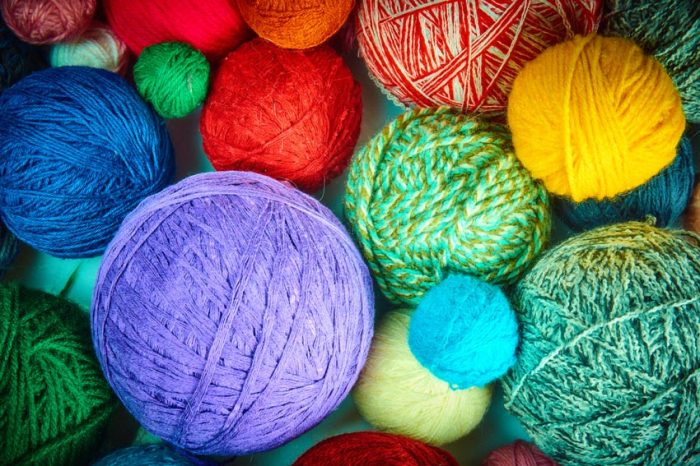 After you're happy with your hook hold, take your yarn and start to unravel a short amount. What you will have is what's called the 'working yarn'. This is the line of yarn that goes off to the larger ball. Looking for wools and yarns? Click here to view our products.
All about the tension
How you manage the tension in the yarn is important. If it's too slack, you'll find your crochet work will have large gaps or holes in it. Likewise, if you hold it really, tightly, the crochet work will bunch up. What you're looking for is to keep the tension in the yarn firm. There are a number of ways to hold the yarn, but we'd suggest starting by holding the line of yarn over your little finger and weave it in and out and along your other fingers then pinch it with your middle finger and thumb.
Your first knot
The first knot you need to create from your yarn is the one that will attach to the crochet hook. This is called a slip knot, named because when you take hold of the working yarn and give it a little pull it will slip all the way up to the top of the hook. Make a little loop at the end of the yarn, pinch the loop at the join, flip it over and then you can take your hook and pull it through. Take hold of the tail end of the yarn and the working end of yarn, pull them both and your hook away, and the slip knot will close.
Starting a chain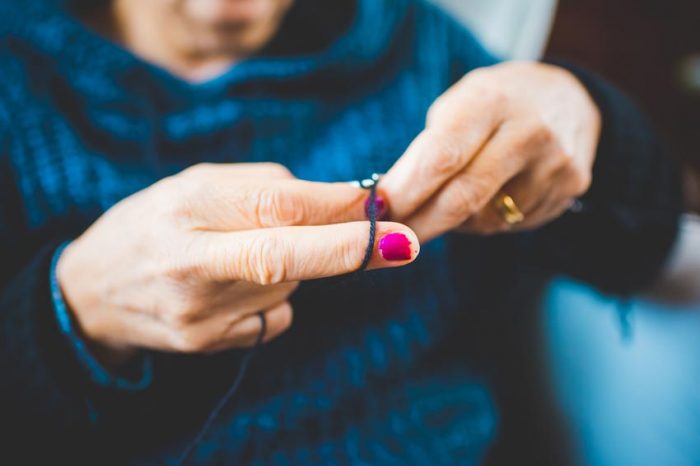 Let's next look at the simplest crochet stitch – a 'chain'. To create this, take hold of your hook and put it underneath the yarn, hook the yarn and pull it through the hoop and you have a chain! Simple!
Practice makes perfect
Practice by making a row of chains and as you do that, you'll notice the chains start to grow and get further and further away from the hook. Try and adjust your grip by holding the hook a little higher up so you're always holding it very close to the knot.
Now, a chain may not look like much on it's on, but what you've just created is one of the most versatile pieces of crochet work. Look at the below example? Can you spot how crochet chains are incorporated into the teddy and rabbit? The scarf and headband used on both use a crochet chain effect. It really is a such versatile crochet stitch.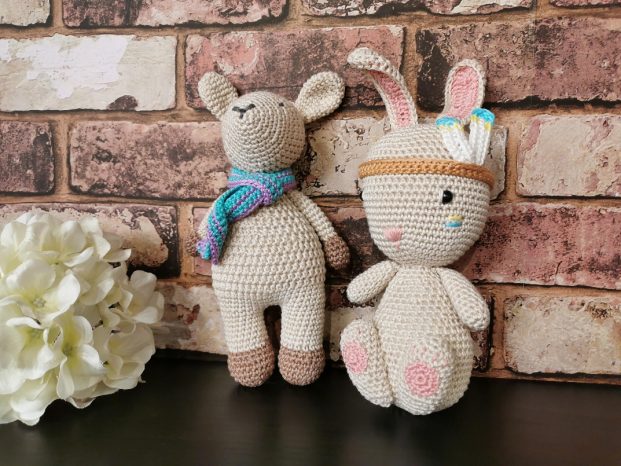 Small projects to try
After you've practiced enough and have given yourself a bit of repetition, you'll soon start to build up a bit of speed. This is now the time to start looking at some small crochet projects to try. A crochet chain will make a quick and easy bracelet, but you'll find lots of great ideas to inspire on the Hochanda website here. From the tools, patterns and kits to get you started you'll be hooked on crocheting in no time at all.
Remember, whatever you decide to try, the most important thing is to have fun with whatever you decide to create. And, for additional craft tutorials visit our YouTube 'In Hochanda's Craft Room'.