Fashion & Embroidery
INCLUDES FREE ENTRY TO
SEWING FOR PLEASURE & THE CREATIVE CRAFT SHOW
24-27 June 2021 · NEC · Birmingham
Open 8.30am-6.00pm (5.00pm Sunday)
Co-Located with Sewing for Pleasure and The Creative Craft Show.
Buy 1 ticket and gain access to all 3 shows.
We can't wait to bring you The Creative Craft Show / Sewing for Pleasure / Fashion and Embroidery – Summer Edition.
Get all of your much loved craft supplies and attend workshops, in a covid secure way.
We will bring you a selection of your favourite features, exhibitors and workshops with a focus on quality whilst ensuring we provide the space to enjoy your day safely.
Want even more space? Select VIP at checkout and enjoy proirity entry, a spacious lounge area, shop and drop and more!
Fashion & Embroidery is the definitive showcase for anyone passionate about embroidery and textile art. Find a wealth of exciting materials, threads and embellishments all under one roof, and enjoy an array of astounding exhibitions. Learn about courses, take part in a workshop; pick up tips from one of the many textile artists or take your seat for one of our exciting catwalk shows.
At the show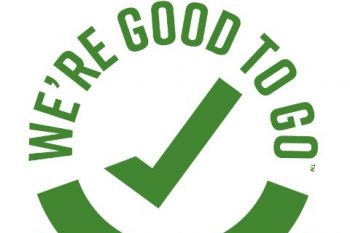 We're Good To Go
Your safety and well being remains our number one priority. We are constantly reviewing procedures across our events to ensure that we keep everyone safe, and we will continue to review our approach based upon UK Government guidelines and Public Health England.
Further measures can be found on our website which will be updated continually in line with Government guidelines.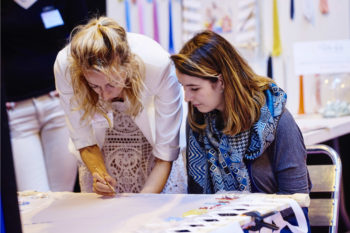 enjoy workshops
Our workshops are a great way of getting even more from your day and give you the opportunity to try something new, and come away with a finished piece to keep. We are thrilled to be able to offer workshops in a safe way. Keep an eye out for details!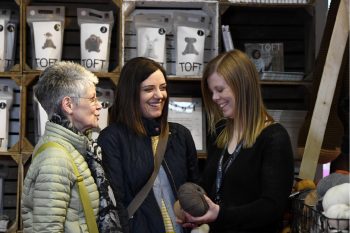 Shop for Supplies
Get all of your much loved craft supplies, in a covid secure way. We will have many of your favourite exhibitors attending the show, and are thrilled to be able to finally give you the opportunity see before you buy, ask questions and experience our friendly shopping hall once again!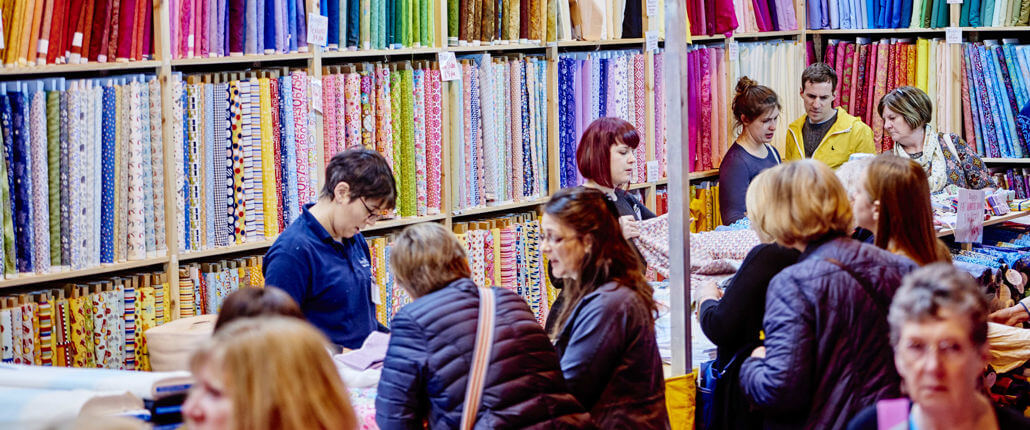 Browse aisle and aisles of stalls and stands packed with brand-new crafting innovations, classic tools and products and accessories in every colour of the rainbow!
With experts manning each stall – you'll be sure to find exactly what you need!
(Details coming soon!)
Getting There
NEC, Birmingham · B40 1NT
NEC, Birmingham · B40 1NT
The NEC is at the heart of the UK's transport network. CLICK HERE for road, rail, bus and flight directions.
By Rail:
Birmingham International Station is within the NEC complex and gives easy access to the show.
Discount travel with Avanti West Coast. Exhibitors and visitors can take advantage of discounted train travel to the show. The offer is applicable on advance Avanti West Coast main line routes/tickets only. Advance tickets go on sale 12 weeks from the dates of travel.
What is the offer?
Simply book your journey to the NEC using the link below and the 20% discount will be automatically applied to your booking: http://po.st/creativecrafts
What do I need to do to validate my ticket?
You need to make sure that you have confirmation that you are attending an event at the NEC with you when
you are travelling (as the conductor may ask you for this on the train). So, please make sure you have your
exhibitor/visitor passes or email confirmation with you.
By Car:
The NEC is situated 8 miles east of Birmingham city centre, just off junction 6 of the M42 and is clearly signposted.
Daily car park charges apply. Pre-pay for parking and save on daily rates HERE.
Resorts World Birmingham offers the perfect opportunity for exhibitors or visitors to relax after a day at the show with restaurants, shops and spa available within the complex.

Your ticket to Fashion & Embroidery includes FREE ENTRY to The Creative Craft Show and Sewing for Pleasure at the same venue and dates, featuring all these and more…
A thread through time · Chunky Knitting & Macramé · YAO MING CHIEN EMBROIDERIES · 2 shows in 1 · Guilds and Societies · Demonstrators · You won't bee-lieve it · Three Mills Craft Association · Creative Den Workshops · The Apocalypse Hits … Birmingham · Talks and Presentations · #SewYourStyle2018 Prize-Giving · Creative Den Workshops and Talks · HANDMADE DESIGNER MAKER AVENUE · GLASS BLOWING with E&M Glass · Paint a Poppy Challenge · Seasonal Live Music · Demonstrating Artists · Workshops · Festive Food & Drink · Search Press Live Art Demonstrations · Christmas Talks & Inspiration · EAT, DRINK & BE MERRY! · EAT, DRINK & BE MERRY! · See the Showguide · Shop the Show Kits · See the Timetable · Vanity Fair Costumes · Mr X Stitch Workshops · 21st century yarns · The Makerss · Quilting competition 2020 winners · Madeira competition winners · TILLY'S SLOW STITCH CAFE · See the Timetable · Talks just announced! · Styling Talks · HANDMADE DESIGNER MAKER AVENUE · Festive Food & Drink · Scottish Quilting Competition 2020 · Live music · Decadent dining room · Creative Studio Demonstrations · Three Mills Craft Association · CREATIVE DEMONSTRATION STUDIO · View the Show Guide · 100 Hearts (Embroiderers Guild) · We're Good To Go · Cake International on Tour · LIST OF STALL HOLDERS · Help create a masterpiece · Talks Programme · The Wedding Aisle · Life-size Felt Animals · Scottish Quilting Competition Winners 2018 · Crafty Beggars Workshops · Download The Showguide · Fooling the Eye · Yao Ming Chien Embroideries · Seasonal Shopping · mindful crafting · 2 shows 1 ticket! · bookable workshops · THE BIG REVEAL · Galactic Plastic · Mind boggling quilt · Debbie Shore Learn to Sew Workshops · Catwalk · Lecture Theatre · Creativity of the catwalk · Talks and Presentations · Meet the Author · Knitted Seaside! · Quilling with the paper genie · Shopping On Screen · Headline Sponsor · In Print · Upgrade to VIP · Painting workshops · VISIT SIMPLY CHRISTMAS FOR FREE · Explore Stonor Park · enjoy workshops · The Family Feastival · MINDFUL CRAFTS – folk it kits · Crafty Beggars Emporium · Handmade finished items · Team Crafty Beggars · Inventors Asylum · DEMONSTRATORS · CONTEMPORARY QUILT 'ELEMENTS' CHALLENGE · HOCHANDA · Sew Your Style 2019 · Re-Structured Kimono · Gothic Steampunk Wedding · House, Gardens & Grounds · Street Food Market · History of the Handbag · Festive Room Sets · HOCHANDA · shop for supplies · Demonstrators · Guilds & Societies · Search Press Make & Takes · Craft'd bus · shop for supplies · Elsker Creations · Beauty in silence · STOCK UP! · Delicious Street Food · A nip & tuck! · ORIENT · CREATE & CRAFT · Live Music · Glass Garden Studios Workshops · Glimpses of the Movies · Glimpses of Royalty · Veterans Afternoon Tea with the Lord Provost · Help Create a Birthday Gift for Crafts Beautiful · Live Art Theatre · Spring Den · crafty beggars workshops · giant knitted poppy · vip crafty beggars workshops · Featured in VOGUE · Needlework for royalty · Embroidery Den · Quilting Den · Jewellery Den · Papercraft Den · Felting Den · Sewing Den · Yarn Den · The Pebeo Zone · Splatter Make · Childrens' Book Reading · Festive Den · DEMONSTRATORS · GLIMPSES OF THE ROARING 20'S · QUILTING GROUPS · GLIMPSES OF THE MOVIES COMPETITION DISPLAY · House, Gardens & Grounds · The National SugarArt Association · Pop-up Petting Zoo · Mixed Media Den · glass garden studio · Meet The Artists Den · The Modern Calligraphy Co. · FREE Talks Programme · MODERN CALLIGRAPHY NIB AND BRUSH WORKSHOPS · The Embroiderers' Guild · FOLK IT – MINDFUL CRAFTS · GOTHIC REVIVAL – STEAMPUNK CREATIONS · DEMONSTRATORS AND GUILDS · The Vlieseline Challenge · Bring our bees back! · Get buzzy! · Maize Maze @ Penshurst · Kids Zone · Free-machine Embroidery · Freestyle machine embroidery · Jonathan Korejko · Art Clay · GROUPS, GUILDS AND EDUCATION · CREATIVE JOURNEY · Creative Den Workshops · Sugartots Sand Art · Rosalind Freeborn – Papershades · Hochanda – Broadcasting Live! · Community Art Project · Annette Smyth Art & Craft Workshops · Grans on the Make 2020 · CALLIGRAPHY COMES TO MANCHESTER · UPCYCLE WITH HEALEY DELL CRAFT CENTRE · EXPERIMENTAL MIXED MEDIA · FREE access to Cake International on Tour · Layer, paint and stitch · Wearable Art · Hand Embroidery · NIKKI PARMENTER ARTWORKS · Sugar Tots Sand Art · Silk Painting Workshops · Guilds, Textile Groups and Education · Sew Your Style 2018 Winners · Demonstrators and Textile Groups · Candle Making · Print & Repeat · Embroiderers' Guild · The Guild of Silk Painters · An egg-celent talent · Contemporary mixed media · The Beauty of Textile · LLANDYSUL KNITTED MAP · Clay pigeon shooting · Guilds and Associations · Silver Clay Jewellery · Tracey Quinn · Bob Neill – Pyrography · British Polymer Clay Guild · Federation of Family History Societies · New Exhibitor: Jamie Boots · COLOUR-IN CARAVAN · TEXTILE GROUPS, GUILDS AND EDUCATION · Textile Groups and Education · Demonstrators · Weaving Workshops · Shop for Supplies · EQA 30TH ANNIVERSARY EXHIBITION · GILLIAN COOPER – BALFRON TEXTILE ARTIST · FREEWHEELING – CENTRAL SCOTLAND · SHEENA NORQUAY · THE QUILTERS GUILD OF THE BRITISH ISLES – REGION 16 · Leah Higgins – Deconstruction, Reconstruction, Evolution · Pat Archibald · Elisabeth Viguie Culshaw – stand L14 · QGBI – Traditional Quilt Group – stand M06 · QGBI – Modern Quilt Group – Region 16 – stand M01 · Threaded Together – stand L24 · New Reflections – stand M02 · Turning Point Quilts – stand M04 · Thistle Quilters – stand M24 · Aberdeen Patchwork and Quilting Group – stand M28 · Bonnie's Workshop – stand L22 · Seams Right – stand M26 · Mr Hobbs Gin · In Our Hearts · Hochanda · National Association of Flower Arrangement Society (NAFAS) · Tracey Quinn – Stained Glass · DENMAN · vintage swing boats · Demonstrators · Festive Den host · SUGARTOTS SAND ART · THE EGGNOGG CAMPSITE · GUILDS AND SOCIETIES · Workshops · Demonstrators · Win a shopping spree! · Colleges & Groups · Guilds, Federations & Societies · victorian carousel